Zhejiang Huada Group Co., Ltd. was founded in 1992, started in the communication industry. After 20 years of arduous pioneering and development company has become set of thin steel plate, copper processing, real estate, investment financing industry in one, the diversified development of the private enterprise group. Group under the Zhejiang China of new materials Co., Ltd., Hangzhou China Flooring Industry Co., Ltd., Zhejiang Longxiang Real Estate Co., Ltd., Zhejiang Feng holding eight small loan Co., Ltd., and a wholly owned subsidiary. The main products are cold rolled steel plate, hot plating zinc (aluminum) steel, color steel plate, copper bar etc.. Company production of "long" brand steel products are brand-name products in Zhejiang, "long" is a trademark of Zhejiang Province.
The company in accordance with the requirements of modern enterprise system, establish and perfect enterprise management system and organization. Has passed the ISO9001 quality management system, ISO14001 environmental management system certification, 3A standardized management system, 2A measurement management system certification. And organize the implementation of cleaner production management and 6S management. Study on industrialization of development actively committed to thin steel industry of new products, new technologies, new processes, new projects and high-tech achievements. At present, the company has the national invention patent 6, have a utility model patent 20, province science and technology plan project 1, 7 provincial-level new products. At the same time, company development project has several times been included in Hangzhou City, Zhejiang Province key industrial investment projects.
Enterprise performance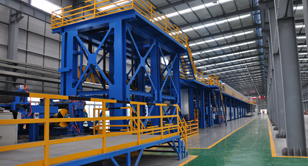 Company Liannian Pi as "Bank AAA level credit" enterprises in Zhejiang Province and "heavy contract, defends the credit enterprise", and for many years was included in the national private enterprise manufacturing 500, high-tech enterprises in Zhejiang Province, Zhejiang Province famous trademark enterprise, Zhejiang provincial civilized unit, Zhejiang Province integrity demonstration enterprises, industrial enterprises in Hangzhou City, large group of large enterprises, Fuyang city ten meritorious. In the future, the company will uphold "truth-seeking, pragmatic, efficient and innovative" spirit of enterprise, make persistent efforts, in market competition continue to move forward, the Chinese construction of scale management, standardized management, scientific development of well-known large group enterprise.